Showing May 16 – June 20, 2017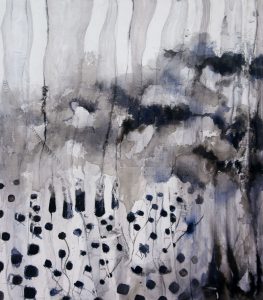 Artist Cathy Jacobs is presenting a series of oil paintings and mixed media collages that feature paint, handwoven linen, silk, and metal.The artworks are inspired by landscape, textiles, and the artist's
daydreams. Ms. Jacobs, a painter for many years, recently began to work with textiles and weaving. The work in this show is the result of the artist's experiments in layering and combining these different materials found in her studio: paint, hand-dyed and handwoven fabrics, string, nails, metal washers, etc. About layering materials, she says,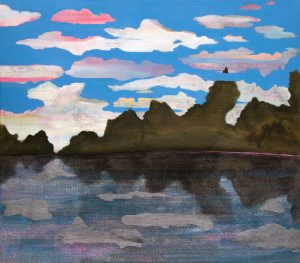 "I am always thinking about screens and the act of seeing through many layers. I have found that what is behind always affects what is in front. Seeing the world through fog, looking through long blades of grass, or seeing the sky through the thatched branches of a forest, I find the beauty in the layers."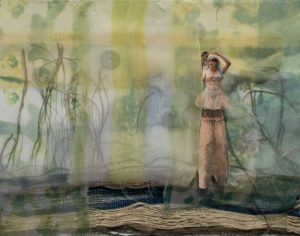 Much of the work has the spontaneous quality of stream-of-conscious thought captured in collage.  Often airy and atmospheric, the works are the precursors to her most current transparent and ethereal textile work.
Ann Arbor resident Cathy Jacobs studied painting at Wayne State University in Detroit, and has a Master of Fine Arts degree from Eastern Michigan University in Ypsilanti, Michigan. She has exhibited her artwork in the United States and Canada, most notably at SOFA Expo in Chicago, ArtPrize in Grand Rapids, and the Architectural Digest Design Show in New York City. Her handwoven artwork is represented at Next Step Studio and Gallery in Ferndale, Michigan, and the State of the Arts Gallery in Sarasota, Florida. Her art studio is at Ypsi Alloy Studios in Ypsilanti, and she lives with her husband, Leonardo, in Ann Arbor, Michigan.
Please join us for an Artist Reception on Saturday, May 20th from 5:00 – 8:00 pm. 
Dreamscapes by Cathy Jacobs: a solo exhibition of oil paintings and collages